SEE HOW OUR LUXURY CERAMIC CANDLES AND DIFFUSERS ARE MADE
Watch our short film to find out how our British made home fragrance is crafted.
NOT SURE WHAT FRAGRANCE TO PICK?
TRY OUR FRAGRANCE SAMPLE PACK
This fragrance sample pack contains 17 cards individually sprayed with each one of our scents so you can choose the one that suits you best from the comfort of your home.
We'll also include a £10 off discount code within the pack that you can use on any future order over £75 of our candles or reed diffusers.
The 17 Fragrances included are:
The Library, The Country Garden, The Tropical Paradise, The Seashore, The Flower Lady, The Dashing Gent, The Orangery, The Enchanted Forest, The Botanist, The Autumn Rose, The Tuscan Sunset, The Alpine Lodge, The Jungle, , The Starry Night, The Butterfly Lady, Rosa & Eden

* Limited to one per customer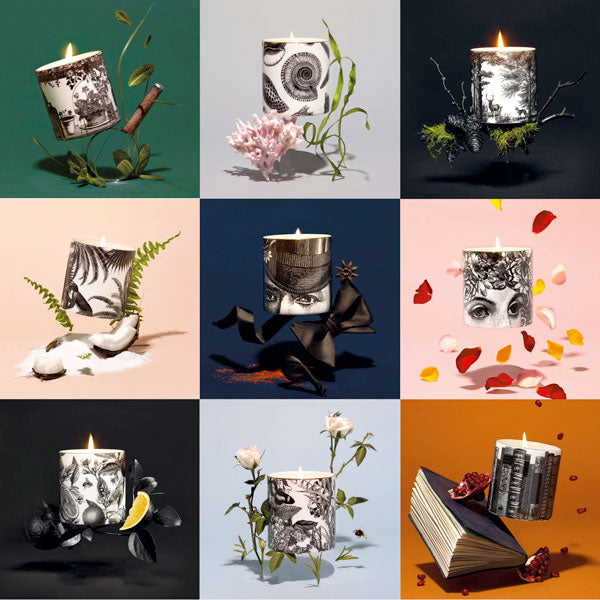 WHAT MAKES OUR LUXURY SCENTED CANDLES SO SPECIAL?
At heart, we're candlemakers who delight in bright, beautiful, evocative scents. That's why we spend months perfecting our fragrances, searching for just the right combination of notes to stir the senses.
We also hand make our luxury scented candles here in Britain. Expert chandlers hand pour our blends of essential oils and premium fragrances with soy wax, making them the traditional way and in small batches to ensure a consistently high quality. Our ceramic candle holders are made and hand decorated by expert ceramicists in Stoke on Trent.
We use natural soy wax and lead-free wicks that don't release toxins, have a long burn time, and offer a strong throw even when unlit.
And lastly, we design our luxury scented candles to look as good as they smell. The ceramic candle holders are decorated with our illustrations and painted with 22 carat gold – both of which combine to visually represent the essence of their fragrance.
Chase and Wonder luxury scented candles make for an indulgent treat, gorgeous decorative feature, or a memorable gift.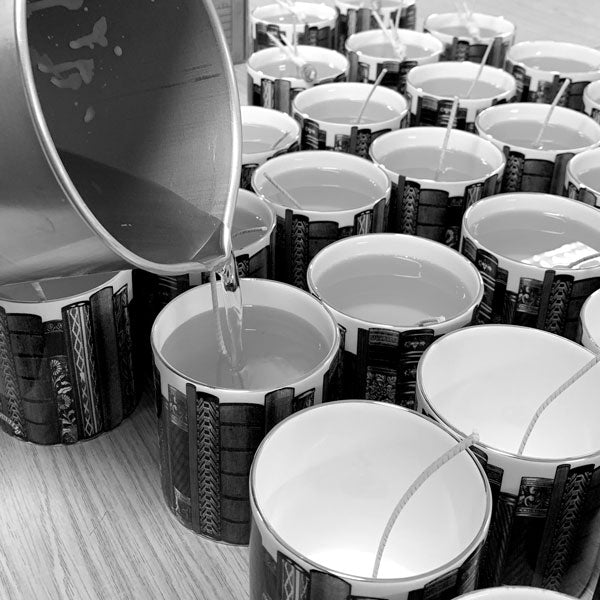 SCENTS THAT TRANSPORT YOU
Our luxury candles are made to be evocative – so that in their flicker and glow, they transport you to places of nostalgia, wonder and serenity. However, we know it can be difficult for you to pick and choose the right scent for you while shopping online. That's why we've organised our range of home fragrances by fragrance type.
We have fragrances inspired by florals and garden scents for those who love the outdoors, and we have fragrances with notes of citrus that are zingy and uplifting. Our fresh / ozonic fragrances brim with notes of the seashore and beaches, and we also carry woods & spice fragrances that contain woody notes.
And if you're still not sure about which one to pick, then perhaps try our fragrance pack. It contains 16 cards, each one carrying one of our scents for you to sample before choosing the best one for your home.
Frequently Asked Questions about our Luxury Scented Candles
There are 4 qualities that set apart a luxury candle from regular candles: fragrance, wax, wick and container. Luxury scented candles use blended essential oils to create unique, distinctive and deeply evocative fragrances. Their wax isn't made from paraffin but from soy wax or other alternatives that are eco-friendly, burn longer, and have a stronger throw. Their wicks provide a clean burn to better fill rooms with their fragrance, and are lead-free. And last but certainly not least, the container or candle holder of a luxury scented candle is artfully designed to complement the fragrance it releases. If you're interested in learning more, then please view our range of luxury scented candles.
As candlemakers who delight in scents that transport you, we take great care in the preparation of our candles.

Our candles are hand poured in small batches by skilled British candle pourers in the traditional and (in our opinion) best way. We select and blend essential oils and premium fragrances that carry deeply evocative scents, and we use natural, vegan friendly soy wax that has a strong throw and burns cleanly for 30 to 50% longer than mineral wax. Lastly, our ceramic candle holders are handmade and hand decorated by a small team of expert ceramicists based in the heart of the Potteries, Stoke-on-Trent, to create candles that look as good as they smell. The ceramic candle holders are designed to last a lifetime – they are both refillable and reusable.
We believe soy wax is the best choice for scented candles for three reasons: it burns for up to 50% longer than mineral or paraffin wax; it offers a strong throw to fill rooms with fragrance (and even when unlit can give you a potpourri effect); and because it is all-natural, it burns cleanly and doesn't release any toxins, carcinogens, or pollutants to trigger allergies.
Scented candles made from soy wax tend to last twice as long as those made from mineral or paraffin wax. That's one of many reasons why our luxury scented candles are made from soy wax – 300g of our vegan friendly soy wax provides a burn time of approximately 90 hours. Our luxury scented candles carry evocative fragrances that are inspired by or feature notes of florals and the garden,fresh / ozonic,citrus,woods & spice.
It's best to keep your candle lit for no longer than 4 hours. This prevents your wick from mushrooming, which is when the wick burns faster than the wax, resulting in the wick absorbing the wax and making it difficult for you to relight.

Please remember to never leave your candle unattended.
Our luxury scented candles are made from all-natural, vegan friendly soy wax and offer a burn time of 90 hours. To ensure you get the most out of those 90 hours, we recommend the following:

Trim the candle wick to 3mm before first lighting it for a clean burn.
When you first use your candle, keep it away from draughts and lit for around 2 hours, or until the wax has pooled to the edge. This will prevent tunnelling (which is when only a small circle of wax around the wick melts, rather than the entire surface of the candle burning evenly).
Ideally, let the candle burn for 1 to 2 hours at a time.
Avoid letting the candle burn all the way to the bottom. This protects the ceramic container and prevents it from becoming too hot to touch. And always protect the surface on which your candle sits.